10. REVENGE
Few exploitation-cinema subgenres are as durable (and problematic) as the rape-revenge fantasy, and French writer-director Coralie Fargeat's contribution to this class of film has a fierce vitality and self-conscious sense of humor that invigorates its familiar premise. In a vast desert, a married man's (Kevin Janssens) sexy young mistress (Matilda Lutz) is sexually assaulted by one of his two visiting friends; when she subsequently flees, they attempt to kill her, albeit unsuccessfully.
"This instigates a game of cat-and-mouse in the vast, arid middle of nowhere, which Fargeat stages with extreme stylishness, whether it's close-ups of gushing wounded flesh or a dream-within-a-dream-within-a-hallucination sequence that underlines her playful attitude toward the proceedings. Refusing to revel in its heroine's torment, indulging in over-the-top symbolism, and delivering action set pieces that are equally thrilling and goofy—including a mountain-road showdown and climactic single-take pursuit that confirm Fargeat's formal dexterity—"it proves a righteously wicked midnight movie for the #MeToo era."(Esquire)
9. MISSION: IMPOSSIBLE – FALLOUT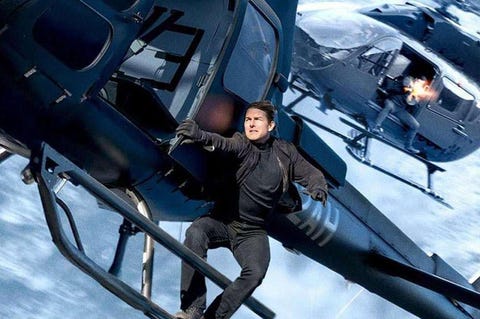 Tom Cruise risks life and limb—literally, in many instances—for his sixth go-round as Ethan Hunt in Mission: Impossible – Fallout, the finest action film since 2015's Mad Max: Fury Road. In writer/director Christopher McQuarrie's adrenalized espionage thriller, Hunt is tasked with recovering a trio of plutonium cores while juggling his relationships with colleagues (Simon Pegg, Ving Rhames, Alec Baldwin), alluring spy Ilsa Faust (Rebecca Ferguson), and former wife Julia (Michelle Monaghan)—not to mention CIA-assigned assassin August Walker (Henry Cavill), who has orders to kill Hunt should he stray from his assignment.
That intertwining of the personal and professional provides a sturdy backbone for a series of set pieces that, especially in IMAX, are nothing short of astonishing, as McQuarrie begins with a slam-bang bathroom brawl and then continually ups the eye-opening ante, culminating with an aerial showdown between Hunt and Walker aboard helicopters that establishes Cruise, and the series, as the reigning kings of Hollywood spectacle.
8. PADDINGTON 2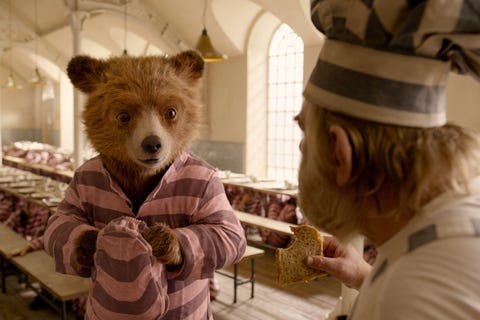 A superior slice of children's entertainment, Paul King's sequel to 2015's Paddington is a sheer joy, infused with comic inspiration and irresistible sweetness. In this second series installment based on the stories of author Michael Bond, the perpetually hatted Paddington (voiced by Ben Wishaw) winds up in prison after he's framed for the theft of an elaborate pop-up book that he planned to purchase for his dear Aunt Lucy (Imelda Staunton)—a crime that's actually been perpetrated by a faded local actor (and master of disguise) played to cartoonish perfection by Hugh Grant.
The set pieces are uniformly inventive, the hybrid live-action/CGI aesthetics are superb, and the supporting cast—including Sally Hawkins, Brendan Gleeson, Julie Walters, Jim Broadbent, and Peter Capaldi—is across-the-board fantastic. Only the hardest of hearts could resist its good-natured charm, epitomized by its sincere belief (advocated by Paddington himself) that the key to improving the world (and ourselves) is compassion, affection, politeness, and positivity.
7. EIGHTH GRADE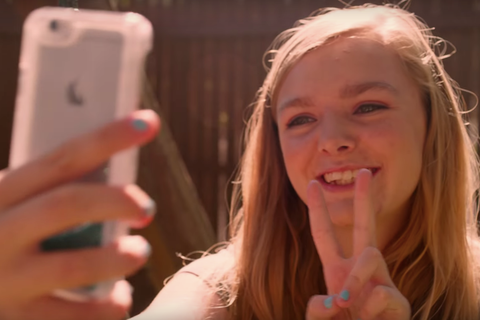 "Teenagerdom is tough, and Bo Burnham's Eighth Grade captures the difficult ups and downs of that universal experience with amusing and moving realism."(Esquire)  Elsie Fisher is a revelation as thirteen-year-old Kayla, whose day-to-day existence on the cusp of middle school graduation is defined by social media, squabbles with her single dad (Josh Hamilton), and social anxiety and ostracism.
Burnham's plot is littered with specific bits that anyone who is (or is living with someone) this age will recognize as spot-on ("LeBron James!"). More compelling still is his depiction of social media's role in kids' process of self-definition, of girls' awkward and often unpleasant first forays into romantic and sexual territory, and of the peer pressure-created insecurities that complicate one's maturation (and relationship with parents). Unvarnished to the point of sometimes being outright cringe-worthy, it recognizes how tough it is to figure out who you are—and locates hope in the knowledge that that process continues long after you've moved on to high school.
6. A PRIVATE WAR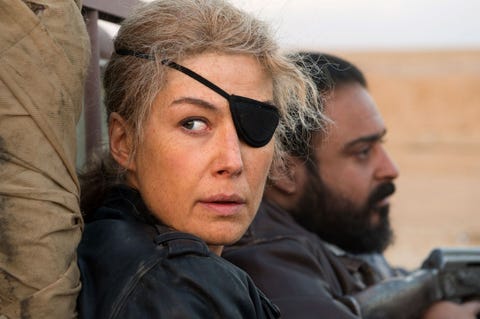 Rosamund Pike gives the performance of the year in A Private War, exuding a complex mixture of fierce determination and PTSD-fueled torment as real-life war correspondent Marie Colvin, who perished during Syria's Siege of Homs in 2012. Directed by Matthew Heineman (Cartel Land, City of Ghosts), this jagged, riveting drama details the acclaimed career of Colvin, whose fearless expeditions to global hot-spots to capture the human face of war took an immense toll on her psyche.
Donning the reporter's signature eye patch and speaking in her gravelly voice, Pike brilliantly evokes the messy contradictions of Colvin's life—her bravery, her instability, and her dogged desire to make people care about the world's horrors as much as she did. Her performance is matched by the direction of Heineman, who employs a fractured editorial structure and tragic up-close-and-personal warfare imagery in order to carry on Colvin's mission of making the political deeply personal. "In an age in which the media is under increasing attack, it's a bracing and timely portrait of journalistic courage and sacrifice."(Esquire)
5. 24 FRAMES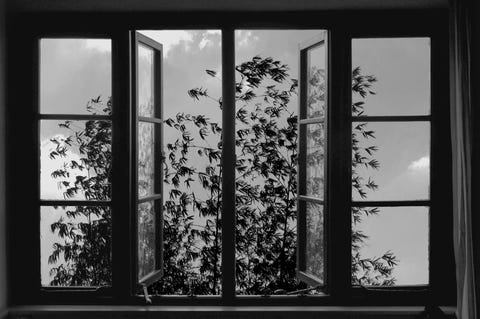 Before passing away in 2016 at the age of 76, Iranian master Abbas Kiarostami completed work on this, his final film, an experimental documentary that serves as a melancholy meditation on mortality and the moving image. As original as it is striking, 24 Framesfeatures twenty-four scenes, each containing a still photograph taken by Kiarostami (save for the opening shot of Pieter Bruegel's 1565 painting The Hunters in the Snow) that then slowly comes to animated life courtesy of sly digital effects that cause animals to run, clouds to roll by, and smoke to billow from chimneys. By lingering on each of these sights as they spring into action, the director situates viewers in a trancelike realm.
While no overt commentary is provided, the repetition of objects, figures and rhythms soon impart the project's underlying fascination with issues of loneliness, compassion, romance, and the inexorable forward march of time—a subject that, in the end, reveals Kiarostami's swan song as a moving treatise on his, and mankind's, fundamental impermanence.
4. THE RIDER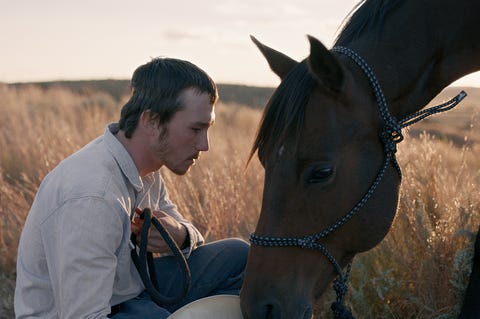 "The West is wild to its core in Chloé Zhao's The Rider, a stunning verité drama about a young rodeo star facing an uncertain future after a catastrophic accident."(Thrillist) Zhao amalgamates fact and fiction for her sophomore behind-the-camera effort, as her story is based, in part, on the life of actor Brady Jandreau (here cast alongside his own relatives and acquaintances in his native South Dakota). That life-art marriage lends bracing potency to this ode to frontier existence, as does the quiet magnetism of its twenty-something lead.
Nonetheless, the material is truly enlivened by the director's artful aesthetics, which balance intimate close-ups and at-a-remove panoramas of solitary figures set against expansive rural landscapes—never more so than in a late oncoming-storm shot that could double as an Old West painting. Meanwhile, multiple sequences in which Jandreau trains stallions provide a powerful, tactile sense of communion between man and beast, and in doing so, silently evoke the warring emotions battling for supremacy in the young bronco rider's soul.
3. YOU WERE NEVER REALLY HERE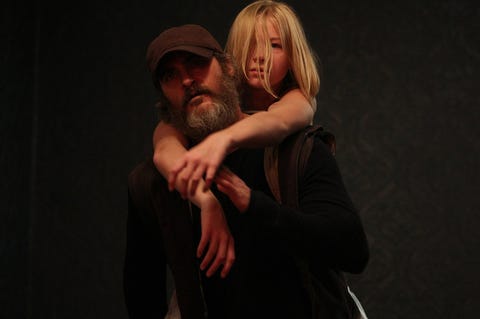 "Joaquin Phoenix reconfirms his status as his generation's finest leading man with You Were Never Really Here, a startling drama that cares less for straightforward thrills than for penetrating psychological intensity."(Thrillist)
Barreling forward with both urgent momentum and fragmented lyricism (thanks to oblique edits and jarring flashbacks), the latest from Scottish auteur Lynne Ramsay (Ratcatcher, We Need to Talk About Kevin) tracks a mentally scarred war vet (Phoenix) as he tries to rescue a senator's young daughter from a child prostitution ring. There's plenty of bloodshed throughout that underworld quest, yet Ramsay's treatment of violence is anything but exploitative; rather, her masterful film resounds as a lament for the trauma of childhood abuse, which lingers long after adolescence has given way to adulthood.
Reminiscent of Taxi Driver and energized by Phoenix's magnetic embodiment of masculine suffering and sorrow, it's a gut-wrenching portrait of a volatile man's attempts to achieve some measure of solace from his inner demons—sometimes via the use of a ball-peen hammer.
2. LOVE AFTER LOVE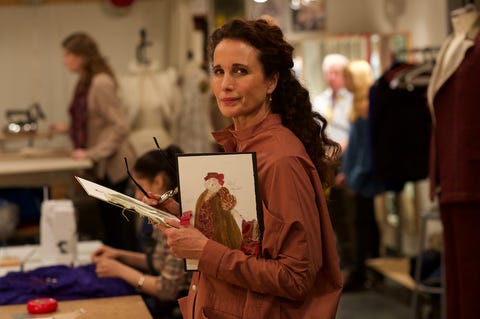 The type of mature adult drama that mainstream American cinema rarely produces these days, writer-director Russell Harbaugh's exceptional debut mires itself in a thicket of barbed emotions. In the wake of her husband's death, Suzanne (Andie MacDowell) strives to start anew, as does her son Nicholas (Chris O'Dowd)—albeit, in the latter's case, in ways that are as clumsy as they are ugly. Their concurrent efforts to find a way forward (romantically and otherwise) unfold with fractured grace and beauty, as Harbaugh plumbs profound depths via evocative compositional framing and a seductive editorial structure.
Complications soon pile on top of each other until practically no one is capable of breathing (save for during release-valve outbursts), with a piercing MacDowell and magnetic O'Dowd (in a staggeringly raw performance) digging deeply into their characters' interior messes. What they ultimately discover are alternately unpleasant and inspiring truths about what we do—and what it takes—to survive in the aftermath of tragedy.
TO ALL THE BOYS I'VE LOVED BEFORE
As a teenage romantic with a secret stash of unrequited love interests, Lana Condor is a ready-made star, and Noah Centineo rises to meet her as the adoring, throaty lunk any introverted girl dreams of coming around and melting away her shyness. Theirs is a teenage romance we can believe in, despite its ridiculously convoluted circumstances, on the merit of the leads and Susan Johnson's effervescent direction. And when was the last time you believed in a teenage romance!?
Sources:
Velture – https://www.vulture.com/2018/11/the-best-movies-of-2018.html
IMBD – https://www.imdb.com/list/ls027433291/
Cosmopolitan – https://www.cosmopolitan.com/uk/entertainment/g12844672/best-new-films-2018/
Thrillist – https://www.thrillist.com/entertainment/nation/best-movies-of-2018
Esquire – https://www.esquire.com/entertainment/movies/g14465325/best-movies-of-2018/